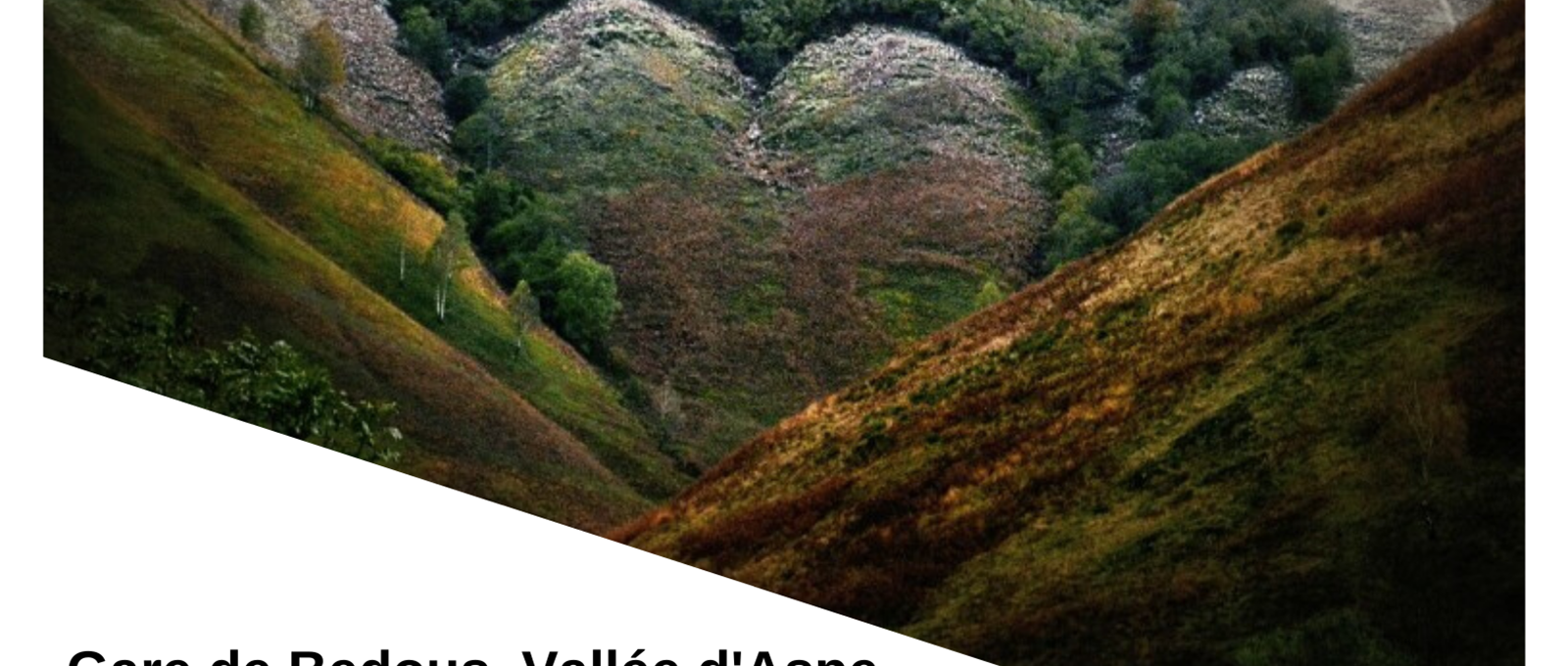 Welcome booklet
Planvienguts to Transhumance & cie!
Thank you for choosing our hotel for your stay in Aspe Valley!
Transhumance & cie, hotel-restaurant opened in August 2019 gives new life to Bedous station and wishes to offer you a welcome in the colors of Béarn in a family and relaxed atmosphere!
We have made the choice of hotel independence and we wish to offer you a strong welcome of our values: a simple, humane and frank hotel business, developing and preserving the resources of our territory and the know-how inherited and newly shaped in the land of 'Aspe!
Welcome booklet:
In these few pages you will find useful information for your stay. Do not hesitate to contact us ! We will be happy to inform you within the limits of our availability and knowledge.
General informations :

The entire establishment is non-smoking. Pets, even on a leash, are not accepted.
Reception and access to the hotel: entry into the rooms is from16h until 20h. You can drop off your things in the morning and you can check in early if your room is ready. In case of later arrival, please notify us by calling 05 59 34 97 59 or by email contact.transhumanceetcie@gmail.com
During the week outside of holidays, the establishment closes a few hours in the afternoon but we are present in the premises, the telephone number for reception is written on the slate at the entrance: we will welcome you upon your arrival . Wednesday evening is the weekly closing time of the restaurant: if you arrive on this day, we will contact you to find out your arrival time.In the event of very late arrival, we will be able to communicate the digicode to you for an arrival in autonomy. The entrance door code is written on a business card in your room: it allows you to come and go outside opening hours.
On the day of your departure, we kindly ask you to vacate your room by 10.30 am.
Payment for the stay: a bank guarantee or a deposit check is required when booking. The stay can be paid before your arrival, when you arrive or the day before you leave, so that we can start cleaning the rooms as soon as possible in the morning. We accept payment in cash, credit cards, holiday vouchers, checks (presentation of the identity card for payments over € 100).
Security: A fire alarm is installed and we are present in the establishment night and day. We ask you to refer to the information presented on the panels of your bedroom door.
To allow access to your room in case of discomfort for example, we also ask you to remove the key from your lock at night , a hook is installed for this purpose.
Reception number: 05 59 34 97 59
firefighters: 18
samu: 15
Bedous medical center:05 59 88 09 73
Internet access: wifi is available throughout the hotel. Select the "hotel station" network, password: Transhumance27!
Parking: A private, unfenced parking lot of ten spaces is available in front of the hotel for the duration of your stay.
Breakfast: We offer a breakfast buffet each morning from 7.30 am to 10 am in the veranda or in the restaurant room.
It is offered at € 8.50 / adult and € 5 / child from 6 years old (free for children under 6) .For families with a direct reservation of 3 days or more at the hotel, we offer breakfast to all children under 12 years of age.
Please order your breakfast at the latest the day before in order to adjust the order of pastries. If you need to eat breakfast earlier, you also need to specify it the day before: we will start the service earlier or prepare a breakfast tray for you.
Meals and half board: The restaurant is open every evening from 7.15 p.m. to 10.30 p.m. (arrival between 9 p.m. and 9.15 p.m. maximum) , except Wednesday.When booking, please specify if you will have your 1st meal the evening of your arrival at the hotel restaurant so that we can reserve a table for you. You can consult our menu and menus on our site: http://transhumance-pyrenees.fr/presentation/notre-carte.html
For the rest of your stay, we ask you to tell us in the morning if you wish to dine at the restaurant. You can also book your stay in half-board formula: € 27 / day / adult (breakfast + dinner), € 25 / day / adult from a stay of 3 nights. The restaurant is open to everyone and we operate mainly by reservation in the evening, we do not guarantee availability in the event of non-reservation on your part.
Languages spoken in the establishment: We can welcome you without too much difficulty in French, Castilian and English and with even more pleasure in Bearnese!
Equipment of your room:
On the 1st floor of the station, 4 rooms are installed in the former SNCF function accommodation, 3 have been created above the goods hall (FRET) and the PMR room has been fitted out in place of the office of the station master. Only the high oak staircase and the floors have been preserved, the renovation has been complete in order to offer you healthy and comfortable rooms. We were very attentive to safety standards and chose as much healthy materials as possible for the renovation and equipment of the room (furniture, natural latex mattresses, linen bed linen).
The key: Handed over upon arrival, your key must be left on the board on the ground floor at the level of your room number. This allows us to identify your presence and your wish without ambiguity:
Key hung on the board = you are absent from the hotel and we can do the cleaning in your room.
Key not present on the board = you are present in the hotel and / or you do not want us to do the cleaning.
When you leave, please hand over your key to us!
Television:Each room is equipped with a TV and a remote control. Please report any malfunctions to us. You have access to the main French channels and TNT. The rooms are soundproofed, however, please ensure everyone's peace by moderating the volume!
Bed and bathroom linen : We have chosen washed linen bed linen for its quality and robustness as well as for its rather respectful cultivation method. We will not change your sheets during your stay except for a stay of more than a week or on your request. Ditto for the bathroom linen which will eventually be changed only after 4 days. Each bathroom is equipped with a towel dryer to prevent the bath sheets from remaining wet. We preferred to entrust part of the maintenance of our linen to ESAT Gurmençon and we wash most of the linen in the hotel-restaurant internally.
An additional pillow is available in each bedroom: in the bottom drawer of your wardrobe or at the top of your closet.
In your bathroom, you will find shampoo in a dispenser as well as shower gel and a donkey milk soap from herds raised in Béarn and processed at ESAT Colo-Coustau de Lescar (64).
We believe that hotels and restaurants can contribute to great synergy and be a wonderful showcase for a region if it turns away from wasteful reflexes. Thank you for helping us in this process!
At your disposal:
- A coffee machine and hot water for tea and herbal tea as well as a small refrigerator are available at the end of the corridor on the first floor.
- A sitting area in the veranda
On simple request, we can provide you with:
- baby equipment: high chair, small bath, travel cot.
- An iron and ironing board.
- an alarm clock.
- a sewing kit, a shoe polish kit, a first aid kit for your mountain outings.
- an electrical adapter for your devices.
- Outdoor equipment to be requested in advance (subject to availability): sledge, snowshoes, hiking baby backpack ...
- Books, board games, climbing guides, canyoning, walks, ign maps: at your disposal in the buffet at the entrance of the hotel. Please put them back when you leave.
- For rental: a Zoé electric car for your trips during your stay. The rental is offered to our customers: € 20 for 1/2 day with energy package up to 150km, € 30 for the whole day with energy package 250 km. Contact us for the rental contract.
Special equipment:
- Pellet wood stoves: Bedrooms 1 Oelhèra, 3 Bugada and 5 Plumalhon
Your stove is programmed to go out from 11 p.m. to 9 a.m. It is regularly loaded and checked; so you don't have to touch it. During the day, it starts as soon as the temperature drops below 19 ° and turns off as soon as it reaches 22 °.
Please do not put anything on the stove or less than a meter (bag, clothes ...) or dry clothes! Your room is equipped with a carbon monoxide detector.
- Electric sauna:Family suite 2-4 Passejada
The very simple control allows you to select the duration of your sauna session and the temperature. Allow 15 minutes for heating before entering the sauna and do not stay more than 20 minutes. Hydrate yourself well after your session.
- Velux balconies: family suite 7-8 Pastoreta, bedroom 6 Estive, bedroom 9 Pè-Descauç
Your room opens to the outside in the blink of an eye! Operate the bottom handle and push to lift the upper part of the velux. Then push the lower part which slides to transform into a railing. To close, raise the small latches on either side of the railing. Please do not touch the upper part of the velux window, otherwise the balcony system would no longer work. Please also close the velux window when you leave your room ...there is no rain detection system ...
Aqueras Montanhas:
walks, leisure, discoveries and meetings in the Aspe Valley
Find out:
- The tourist office welcomes you on the village square of Bedous:
Open Monday to Saturday 9 a.m. to 12 p.m. and 2 p.m. to 6 p.m.
tel: 05 59 34 57 57
- Bedous market: every Thursday morning, all year for centuries!
- Market in Etsaut: every Sunday morning in July and August.
- The house of the Pyrenees National Park in Etsaut: at the old station, permanent exhibitions, video projections and information on outings organized by the guards.
Opening during school holidays: tel 05 59 34 88 30
- Move :
- TER Pau-Bedous , Bedous train station: timetables available on the Aquitaine TER site, line 55: https://www.ter.sncf.com/nouvelle-aquitaine/depliant/recherche
- Bus to Canfranc: serving departure from Chemin de la Mâture, departure from Lac d'Estaens, Somport station, Peyranère, Skibus offer with Somport station.
- Electric vehicle rental at the hotel (see above)
- Rental of a donkey at the Garbure in Etsaut: 05 59 34 88 98
- Electric bikes: (soon) available at the station car park, at Cycl'on place du village 06 17 31 03 97 , or Air Attitude in Accous 05 59 34 50 06
- Stroll, meet:
- The Bedous library welcomes you from Wednesday to Saturday in front of the pharmacy:
tel: 05 59 34 52 53
- Espace Ludopia in Accous: for a day with family or friends! 07 68 34 98 61
- The Bear Park in Borce: 06 01 73 46 09
- The surroundings of the hotel are rich with short walks: the Salhet d'Osse by the bridge and the path of the Gave and push up to the Anaques of Athas, the crying Roche, the "country path", the walk to the orientation table ... from Ourdinse or Bugala to Osse, the walk on the way to Saint-Jacques by Orcun-Jouers or even, take the train to Sarrance and return by the way to Saint- Jacques to Bedous! Ask us!