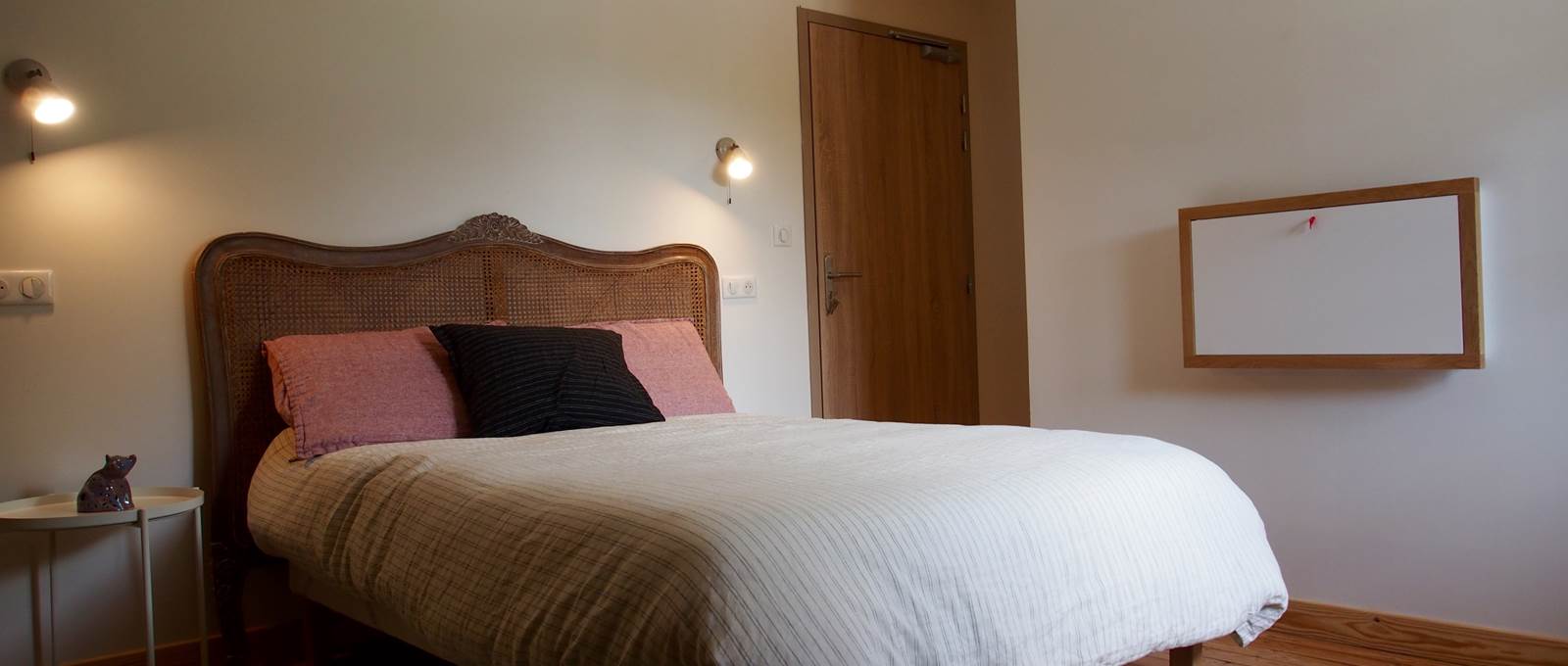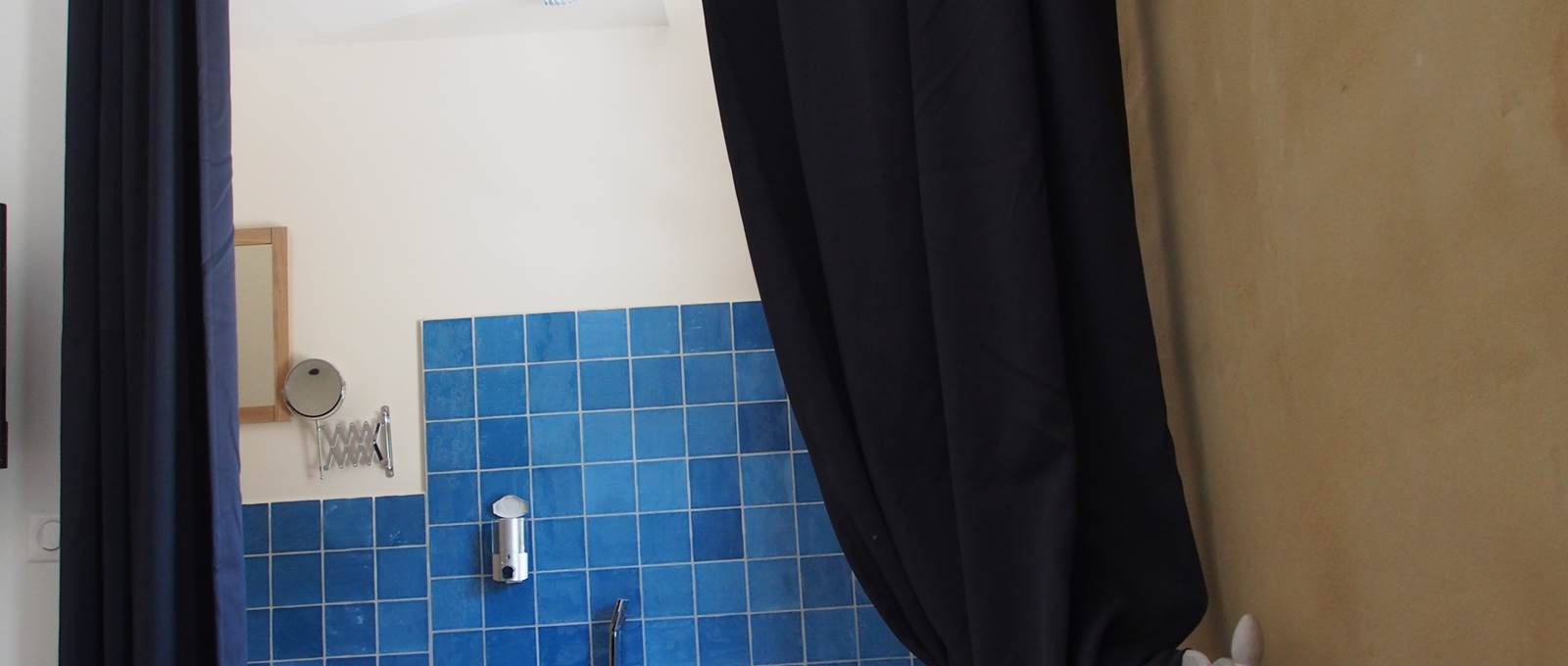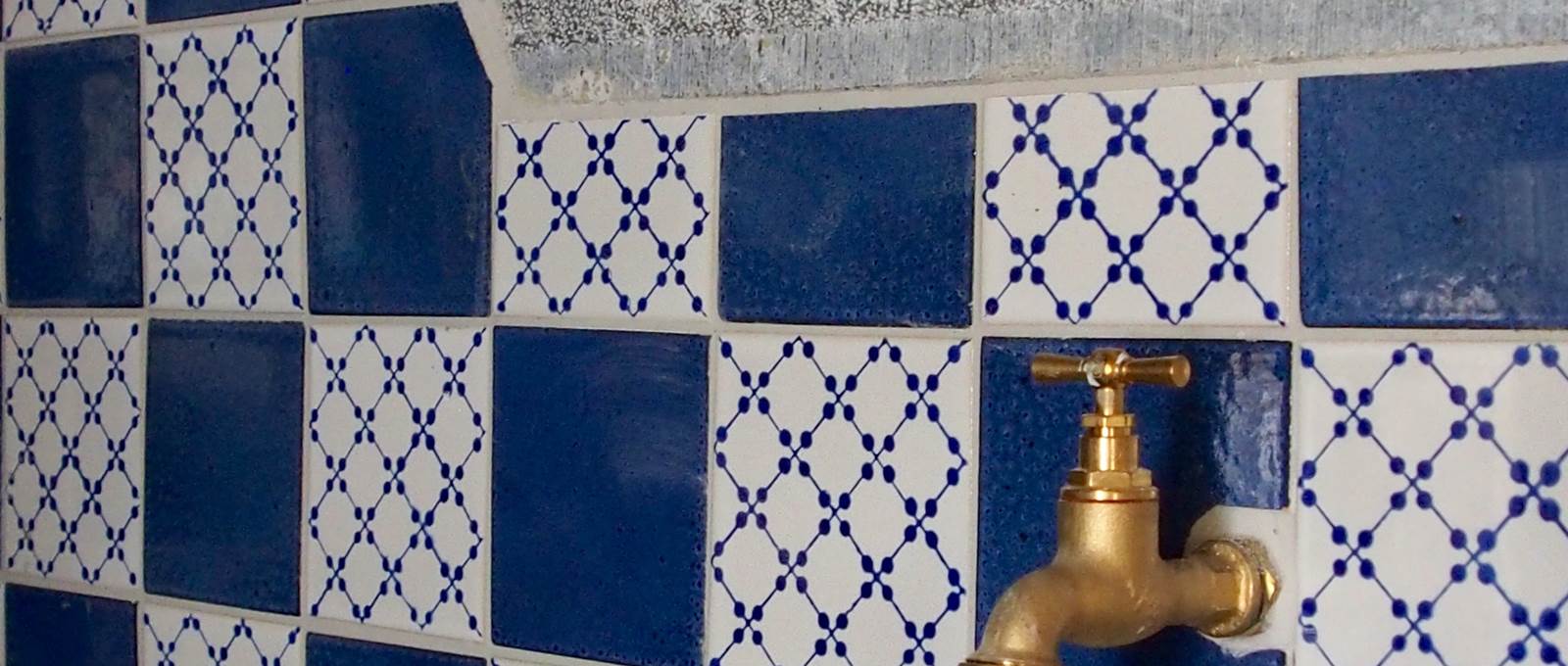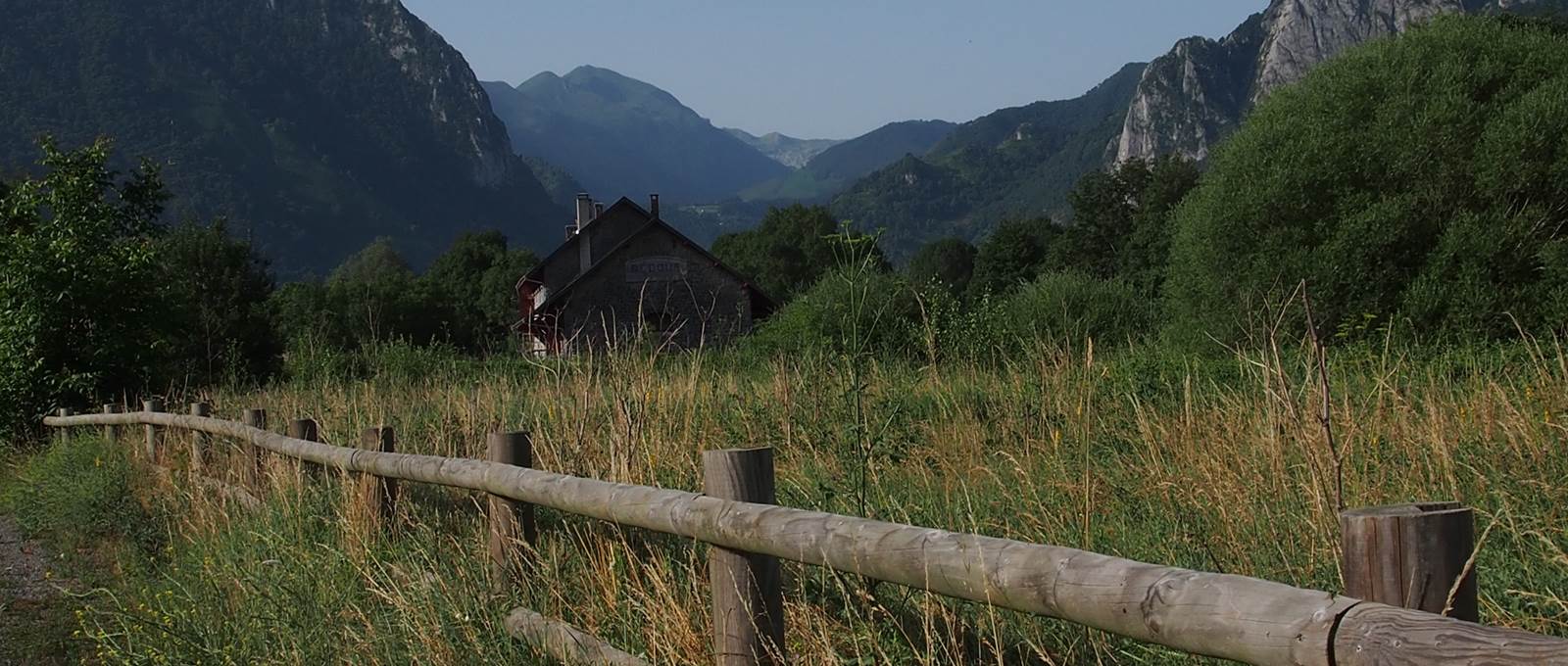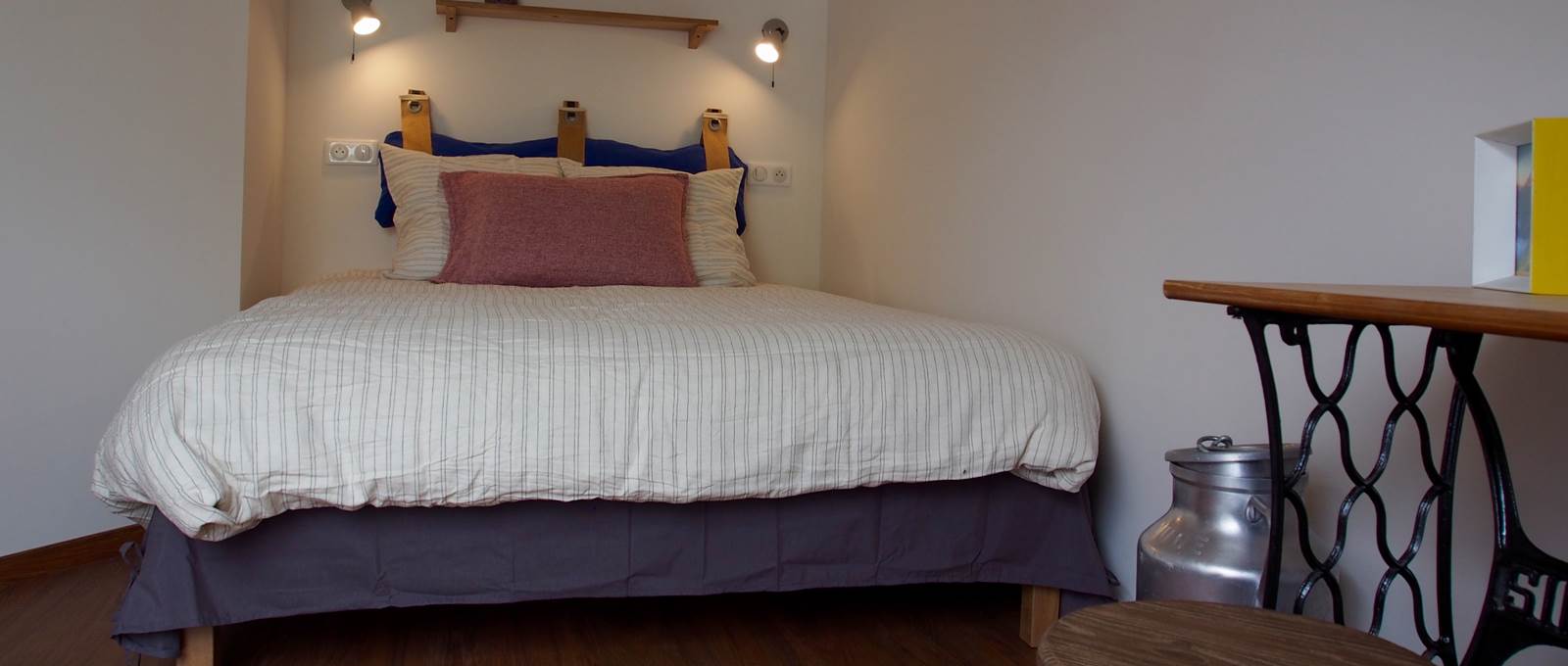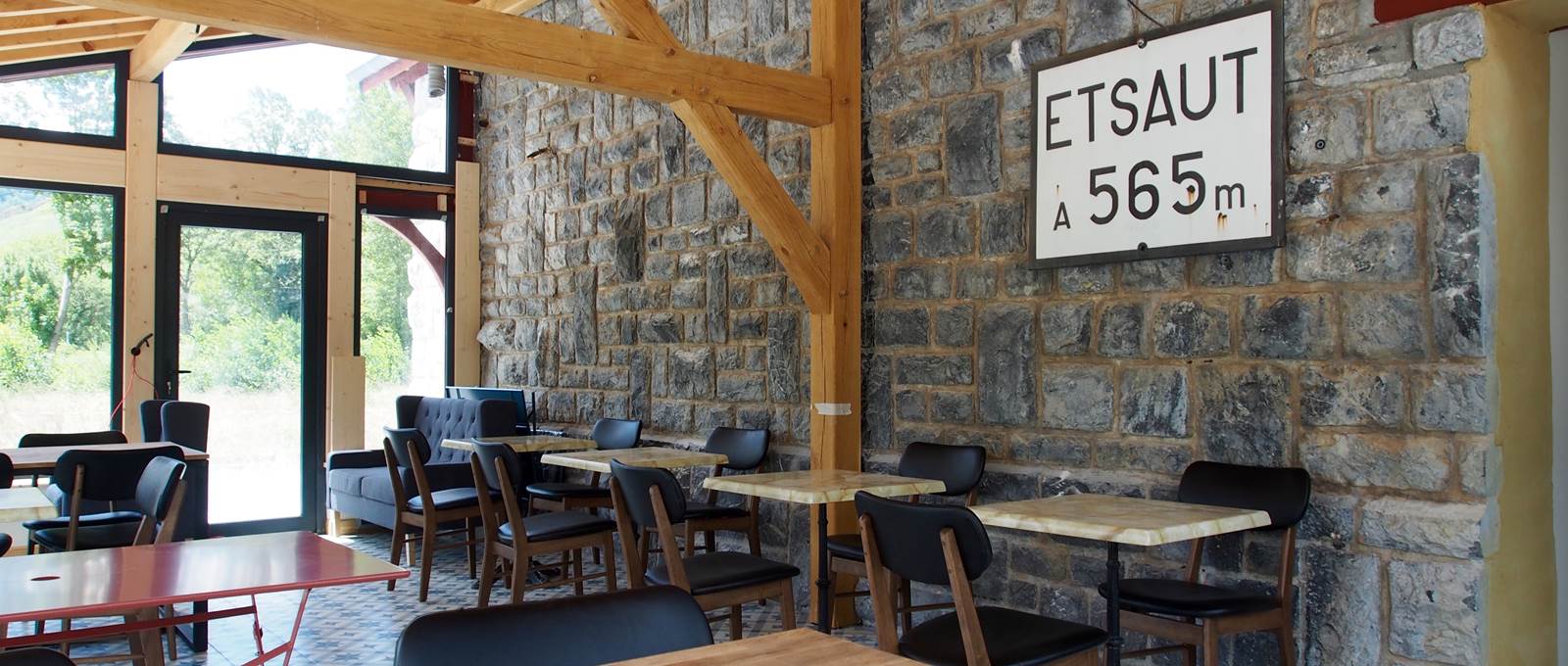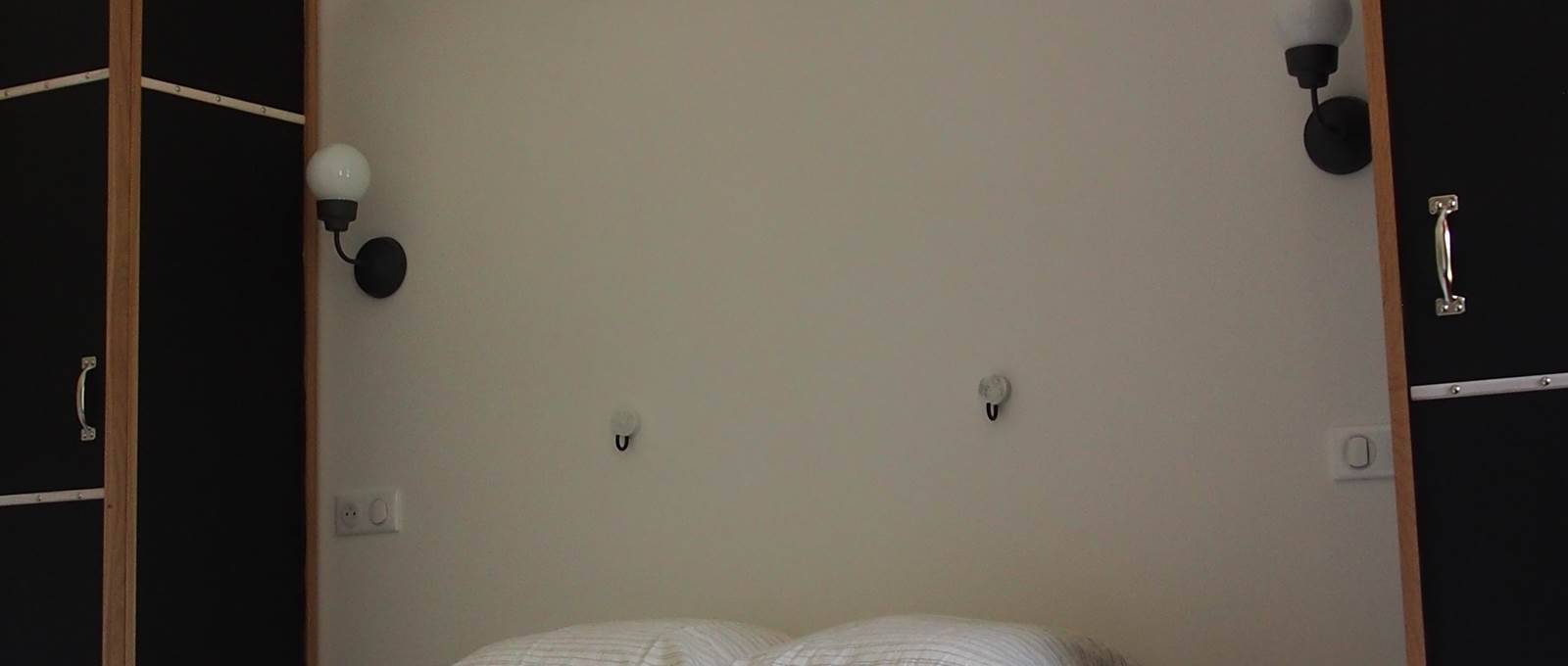 Our dream hotel
Our 7 rooms await you in the old housing of function, the administrative part and a part of the FRET building of the station of Bedous. Inaugurated in 1914, the Bedous station has regained its former glory. Its carved stone walls, oak paneling, high ceilings, the tommet crossed the twentieth century.
We have been particularly attentive to the standards of safety, accessibility and requirements for healthy materials and systems ensuring the economical operation of the building.

After 13 months of intense work, we are proud to present our 7 rooms whose layout is inspired by the themes of pastoralism and travel by train. For bedding: natural latex and bed linen washed linen.

Our rooms adapt to the needs and desires of all: families, couples of lovers, old people or with reduced mobility, small groups ...

On the ground floor :
Room 1 "Camin": adapted for people with reduced mobility, the room has a small private terrace.

1st floor:
Passenger section (non-sloping with window)
Room 2 "Plumalhon": shower and separate toilet, the room is equipped with a pellet stove.
Room 3 "Bugada": very bright, the room is equipped with a bathtub and a pellet stove.
Room 4 "Oelhèra": this is the former kitchen of the station master! The room has a pellet stove.
The Suite / Double Family Room 5 "Passejada" : Two separate bedrooms or 1 bedroom + 1 living room to enjoy a large space. Families up to 3 children + 1 cot. The room has a small private sauna.

1st floor:
Part FRET (attic, large velux balconnet)
Room 6 "Estive": magnificent view of the left bank of the Gave and SNCF buildings (tower, workshop)
The Suite / Double Family Room 7 "Pastoreta": Two separate bedrooms or 1 bedroom + 1 living room to enjoy a large space. Families up to 3 children + 1 cot.The bathroom connects the 2 spaces. Large velux balconette, bunk beds.

Amazed by the precious surroundings of the Aspe Valley, we hope that your stay with us will be a source of joy and relaxation. We hope that our establishment will contribute and guarantee a warm welcome.

We hope that your stay at the hotel "Transhumance & Co." is an enchanted parenthesis in your daily life.
The train can take you here and by bus, bike or on foot, you can enjoy a holiday at your own pace.
The fire, present in the restaurant and in most rooms will also invite you to relax.

We also offer outdoor equipment (backpacks, binoculars, topos, pharmacy kit, water bottles, snowshoes), bikes, paddle rackets. Do not hesitate to inquire at the reception.
Parents of 3 children, we have designed an offer for families with 2 suites / double family rooms (5 people).Breakfast is offered to children for a stay of 3 nights or more, we offer a playful children's menu, games and books are available during your stay. A big rando project? The visit of Fort Portalet? A baptism in paragliding? By planning ahead, we can find a solution to keep your children for half a day or a day at the crib or the leisure center of Bedous.

Here, the trails lead lovers on the paths of "Immortela" and families are close to the hollow of the mountains!
A bèthléu a noste!

Adishatz ea beetheus!